System components - glides
The innovative Easy-Klick technology allows a quick, effortless attachment of the panel glides to the AL1 aluminium slat. An exceptional easy way of assembling a panel carrier.
The special design of the glides offers the possibility to "hang" the panel carriers into the aluminium tracks APS at any desired position. It is as easy to remove the panel carriers at any time. The fabric panels are easily attached with hook and loop fastener.
Unlimited configuration options offer amazing design possibilities.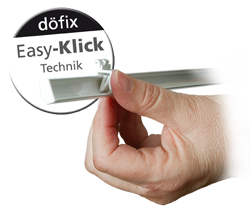 Panelglides PFG4 (for 4mm tracks) or PFG6 (for 6mm tracks) with EasyKlick technology

Panel carriers can be insterted or removed from the track with an easy twist...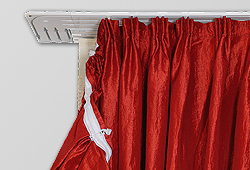 Twist Drapery/ curtain glide DPGs

No punch holes needed. Simply installs by twisting the glide into the track.