Panel carriers with or without cascading
The revolutionary panel glides PFG from döfix allow to simply insert or remove the panel carriers from the track with a simple twist. The fabric panels are attached to the panel carriers with hook and loop fasteners for easy installation and care.
Sliding panels and curtains / draperies can be combined in one track for unparalleled functionality. Aesthetic design combined with maximum privacy.
Technology for professionals!!!
Precision down to the last detail assures smooth, quiet operation of the panels.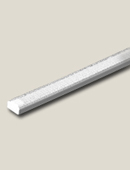 Each panel can be designed individually in any length or width. Non cascading systems allow each panel to be moved independently, offering unique stylish design effects with colours and patterns..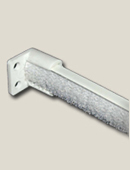 Cascading systems can be opened or closed by simply moving the master panel.
Batons help to protect your fabrics and make the operation a breeze.