döfix production aids
The right tools are not only the foundation to remarkable results but they will make the job more efficient. döfix products will open new design possibilities for exceptional, unique creations.

No matter how high your expectations are, we have the solution for your challenge.
döfix iron-on hook and loop fasteners:
Unusually thin, soft and pliable, yet extremely strong adhering, the döfix hook and loop fasteners are great for installation, overlapping various layers of material e.g. appliqués on soft cornices or layering swags.
döfix hook and loop fasteners are available as iron-on, pressure sensitive, sew / staple on tapes and are offered in several widths.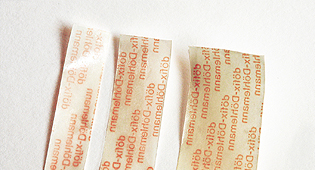 döfix Bortenfix hemming tape is a double sided strong bonding iron-on tape for stitchless and puckerfree results. Ideal for:
hems, banding and applying trim
mitered corners and wrap around banding
pattern matching
döfix - Bortenfix K

has production aid adhesive for thin and transparent fabrics and is a combination of iron-on and sewon.


döfix iron-on gimp

Iron-on gimp is used to finish cornices, place mats or a trim. It's available in several colors and widths.