Cordless Roman Shades for skylights and sun rooms
The döfix cordless shade system is the solution for many problem windows. Since the shade is side tracked, it can be raised and lowered and be virtually stationed in any position of the window. Depending on the specific situation, the shades can be closed from the top down, like a conventional shade, or from the bottom up. This unique feature allows for sunlight without sacrificing privacy.
A great invention for any street level window as well as just a refreshing new look for any window design.

Since the döfix Cordless shades have no pullcords or draw strings they are absolutely safe to have around small children.

No cords - no hazzard!!!


döfix cordless shades are also the ideal window covering for skylights, greenhouses and sun rooms. For these particular applications it is especially advantageous that the döfix cordless shades can be made double sided for maximum insulation. Superior sun reflection and insulation can be achieved by using döfix aluminized solar lining.
Since the shades are constructed using döfix iron-on loop fasteners, they are uncomplicated to manufacture, maintain and clean, and quickly redecorated for seasonal changes.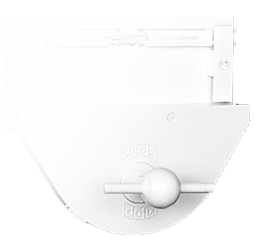 Top down shade
Top down shade
Skylights
Sun room