döfix workroom boiler steam irons
With 3 different sizes of professional boiler steam irons, döfix offers the ideal solution for any size workroom - no matter how large or small.
To make a workstation as efficient as possible, döfix also offers a convenient track system to suspend the iron. Tracking the iron increases efficiency by dramatically reducing strain.

döfix steam irons are available with an optional steam hose of 5m (16ft) without spitting water. This extra long hose is especially beneficial when working on large tables.

Any steaming or pressing will be much quicker and easier as a result of the extraordinary amount of steam. Even though the döfix boiler steam irons produce such a large amount of steam, they operate at an unusually low temperature, which allows them to be used on even the most delicate fabrics.
döfix-D15 with steam brush

Boiler volume approx. 1,5 liters (1,6 qt).
Portable unit to steam dress window
treatments on site.

Includes carrying case.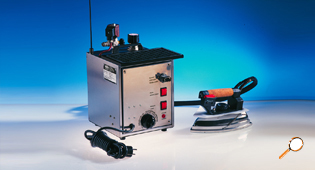 D25 mini

Water capacity: 1,8 liters (1,9 qt)
Average steam time: 1,5-2 h

The perfect helper for installation jobs or for occasional use.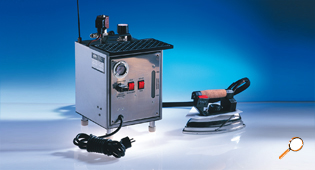 D50 maxi

Water capacity: 3,6 liters (3,8 qt)
Average steam time: 4,5-6 h
A powerful unit for professional use.
D90 jumbo


Water capacity: 7,2 liters (7,6 qt)
Average steam time: 8-12 h

With an extra large tank and the option to attach two irons.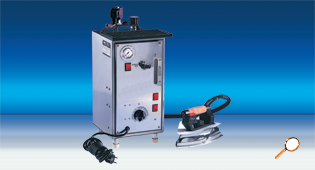 D50iL

With integrated high efficiency pump.

Water can be added at any time allowing
a continuous uninterrupted work flow.